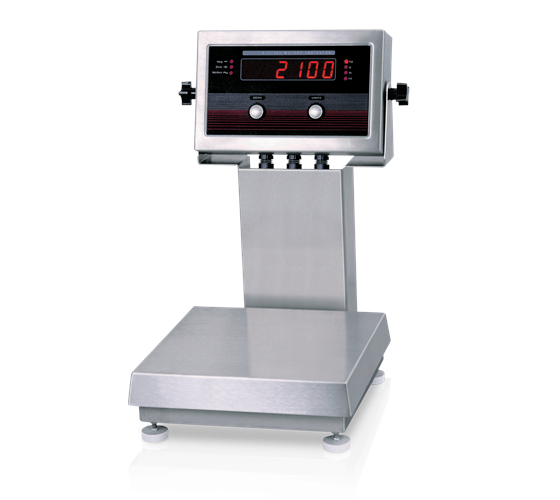 IQ Plus® 2100 Digital Bench Scale
NEMA Type 4X/IP66
304 stainless steel construction
Large, bold 0.8 in light emitting diode (LED) display
Status annunciators: lb, kg, oz, g, negative, motion, center of zero
One full-duplex RS-232 port
Two digital inputs for remote zero, print and units
12 in column, attachment bracket or tilt stand for table, wall or under counter mounting
Aluminum, single-point load cell
Overload and upload stops on scale base
Stainless steel, non-tactile feel, piezo zero and units buttons
Unit of measure: kg, gm, lb, oz, lb/oz (lb/oz is not Legal for Trade)
PreVent™ breather vent
CW-90 Over/Under Checkweigher
Rice Lake's CW-90 checkweigher is designed to help speed up your weighing process and reduce production downtime, two critical factors to your company's bottom line. Ease of use, real-time data collection, and rugged stainless steel construction make the CW-90 the equipment of choice for operators, quality control and maintenance departments. The CW-90 is competitively priced for all light industrial settings.
Easy to Configure
The configuration menu of the CW-90 is accessible through the front keypad, eliminating the need to open the back of the indicator and expose the unit to moisture or contaminants. Access to these keypad controls can be limited to meet the operator's needs. The CW-90 will store detailed information for up to 50 separate IDs, allowing for easy recall of previously saved information. An adjustable contrast display is visible in any environment.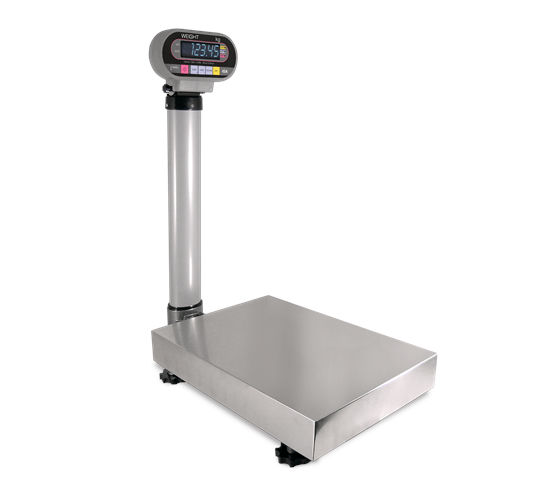 Simple to Use Tare Function
Place a container on the platform and press the Tare key. The tare is automatically stored in memory and the net weight is displayed during each subsequent weight.
Easy-to-Read Rotating Display
Choose a large, bright VFD display or a vivid LCD display to meet your application needs and ease operator reliability. For optimum viewing, and to help eliminate errors, the indicator head can be vertically adjusted with the turn knobs.
Checkweighing Function Simplifies Control
When the user defined upper limit is exceeded, the letter "H" is displayed. When the value is under the lower limit, "L" is displayed. An audible beep warns the operator that the item is out of tolerance.
Auto Power Off Function
The IGB model features battery operation with a selectable automatic power-off function to extend battery life. For those applications where AC power is available, select either the IGB with optional AC adapter or IGX.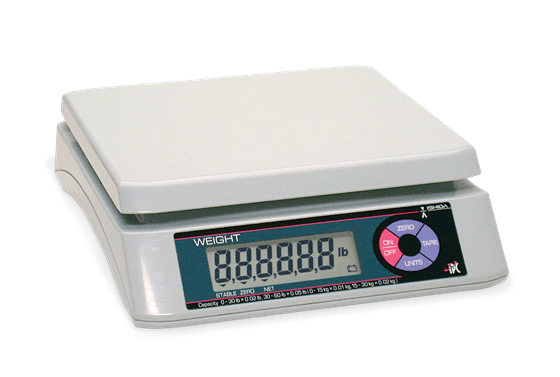 Ishida iPC Series Portable Bench Scale
Offering a sleek design, simple operation and pinpoint accuracy, the iPC from Ishida delivers exactly what today's marketplace needs from a general-purpose scale. Perfect wherever quick, accurate weighments are needed, the iPC excels in applications such as bakeries, restaurants and mail rooms. Convenient four-button operation and optional dual displays simplify processes for users and offer highly visible weight read-outs for customers.
On-the-Go Convenience
Today's fast moving business climate demands portable solutions. Quite simply your tools need to be where you are. That's precisely why we created the iPC with both battery power and an AC adapter. When required, the iPC is easy to move and instantly set up at remote locations such as farmers markets and roadside stands. Two D-cell batteries allow efficient, extended operation—as long as 500 hours, and an annunciator lets you know when to change them. The iPC's selectable auto power-off function saves power and ensures long battery life.
Sensible Design Means Practical Performance
Let's face it, most users don't go out of their way to be kind to their scales. With that in mind, we designed the iPC to withstand the kind of abuse employees dish out in workplaces such as delis and specialty food stores. With overload stops, a specially hardened plastic enclosure and an optional stainless steel platter, the iPC is equipped to survive in tough environments. In addition, maintenance is virtually non-existent.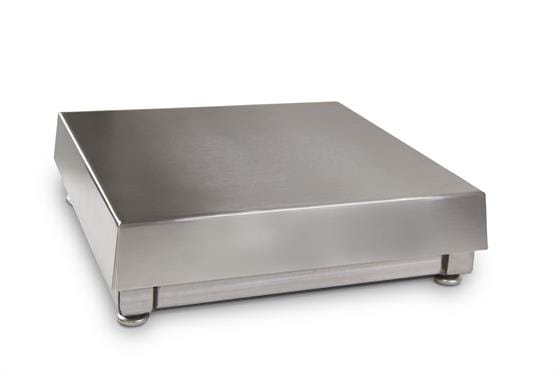 BenchMark™ Stainless Steel Bench Scale
BenchMark's heavy-duty construction provides ultimate durability, sensitivity and long life for a variety of demanding weighing environments. Five standard platform sizes offer a wide variety of capacities:
12 x 12 inches
12 x 18 inches
18 x 18 inches
18 x 24 inches
24 x 24 inches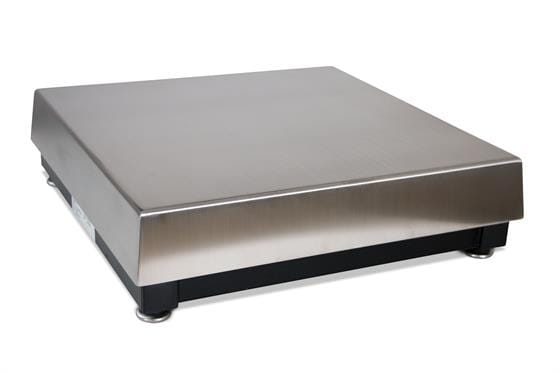 BenchMark™ Mild Steel Bench Scale
BenchMark's heavy-duty construction provides ultimate durability, sensitivity and long life for a variety of demanding weighing environments. Five standard platform sizes offer a wide variety of capacities:
12 x 12 inches
12 x 18 inches
18 x 18 inches
18 x 24 inches
24 x 24 inches